Submitted Wednesday, January 25, 2012 - 11:57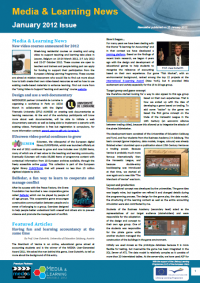 The first 2012 issue of Media & Learning News has just been published and in it you can read articles such as 'Media Literacy – a View from the US', 'Belfedar, a fun way to learn to cooperate and manage conflict', and a feature article about the Merchant of Venice, one of the MEDEA Awards 2011 winners, on which you can read more in 'Having fun and learning accountancy at the same time'.
Other highlights include a 'New initiative on Lecture Recording', Tools of the Trade: Animation, what software or tools to use…', the 'New Voices in Media Education event in London' and 'Commonwealth film competition about relationships'. As always, you will find plenty of other news, notifications and announcements related to the use of media in education and training in this issue.