Submitted Friday, May 11, 2012 - 09:38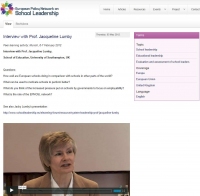 The European Policy Network on School Leadership (EPNoSL) aims to improve school leadership in Europe by setting up a collaborative network in which members co-construct, manage and share knowledge intended to inform policy in the area of school leadership.
Much of this knowledge sharing is taking place in a portal designed and supported by ATiT and through a series of webinars that have taken place in recent weeks. In the portal you can find academic research materials, interviews with school leaders, recordings of the webinars that have taken place and policy documents.