Submitted Thursday, February 2, 2012 - 14:03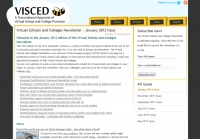 The VISCED project, for which ATiT is responsible for dissemination, just released the first 2012 edition of Virtual Schools and Colleges Newsletter, which contains a variety of articles and reports related to the use of ICT in secondary and post-secondary education for 14-21 year olds in Europe and elsewhere.
Article titles include: Webinar aimed at helping US policy-makers develop policy on K-12 online learning, EurODL paper on Virtual Schooling through the eyes of an at-risk student, Finland's approach to education, Multidisciplinary research project on learning receives million euro funding from Tekes and Technology, Funding Policies and Teacher Education Key Topics Discussed at Global Conference. Read this and more online.