Submitted Friday, February 26, 2010 - 09:10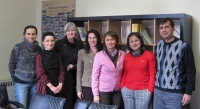 ENAIP (the Italian National Agency of Vocational Training) organised a week-long workshop in Brussels from 15 to 19 February on managing e-learning projects. Sally Reynolds was a tutor on this course and was responsible for sessions on developing e-learning proposals and e-learning methodologies, tools and services.
The idea behind this course was to provide participants with information on European policies related to e-learning, new methodologies in technology supported learning and good practices on proposal preparation. Particiants came from Italy, Poland and Turkey.