Submitted Saturday, April 21, 2012 - 10:55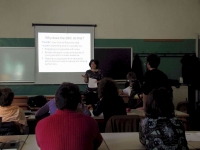 CSP in Italy organised a two day workshop on use and re-use of video resources for teaching and learning on 20/21 April in Torino. This workshop was aimed at teachers and others interested in this topic. Participants learnt more about Italian and European initiatives in this area including EUscreen which was represented by Marco Rendina from Luce in Italy and Mathy Vanbuel from ATiT. This workshop was run in the context of the MEDEA2020 project. Oher inputs came from previous MEDEA Award winner, BBC Schools report which was given by Helen Shreeve.
Submitted Thursday, July 28, 2011 - 15:59
The second 2011 MEDEA2020 workshop entitled 'Webinar as a new Media Use Example' is taking place this week in Warsaw and is organised by MEDEA2020 partner Fundacja Obserwatorium Zarządzania.
This workshop is managed by Anna Jaruga and is being led by Piotr Maczuga and Krzysztof Zielinski. It also includes input from Nick Newman from CareersInfo, UK, Deborah Arnold, Universite Nancy 2, France and Mathy Vanbuel, ATiT, Belgium.
During the workshop, participants were introduced to how best webinars can be used to support training which included a review of best practices. Participants are then taking part in practical hands-on sessions using Adobe Connect were they are learning how to prepare and deliver successful webinars. This includes writing and reviewing scenarios, recording and trouble-shooting.
About 30 people are taking part who come from a variety of different education and training backgrounds.
Submitted Tuesday, July 6, 2010 - 10:20
A group of teachers from the Italian School, Fondazione Maddalena di Canossa in Bergamo, took part in a two day workshop on the 'Creation and Adaptation of Video Resources for Use in the Classroom' on 1-2 July. This workshop was organised as part of the preparation work for the forthcoming pilot testing of the EduTubePlus platform which begins in September which will involve these Italian teachers as well as teachers in 8 other European countries.
This workshop was organised by Armando Persico and Iolanda Riseri from FMC. Despite the glorious sunshine, the teachers worked hard to create their first educational video clips on the topics of mathematics and organ music which will hopefully be the first of many made by them.
The workshop was given by Anneleen Cosemans and Helena Bijnens on behalf of ATiT.