Submitted Monday, October 17, 2011 - 14:17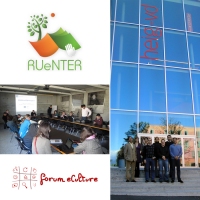 On 12 October 2011, ATiT attended the eCulture Forum 2011 in Yverdon-les-Bains, Switzerland, where the RURALeNTER project, in which we are partner which has been building capacity through ICT in rural areas for 2 years now, received much attention and was included in the programme with a presentation called "Socio-digital inclusion in Europe". Project partners of "RUeNTER", presented their activities such as the research of citizens' ICT needs in rural areas in Austria, Greece, Romania, Spain and Switzerland and the blended learning trainings on the topic of public services and ICT services (with localised content), and the online portal where the training resources are freely accessible to those interested.
The RUeNTER project is funded by the European Commission under the Lifelong Learning Programme and a final partner meeting was also held on 13 October in the modern building of the School of Business and Engineering (HEIG-VD, St Roche) in Yverdon-les-Bains. As ATiT is the leader of the Quality Assurance and Evaluation workpackage, we presented the progress in our evaluation work, which followed a methodology including a peer review process of the project's deliverables and the deployment of several online questionnaires to receive feedback from different RUeNTER actors throughout the project.
You can visit the project website and the training portal. If you would like to receive the project's final online newsletter, please send us an e-mail with your details.
Submitted Wednesday, December 22, 2010 - 14:08
Last week, ATiT staff met with project partners for the RURALeNTER project, funded by the European Commission under the Lifelong Learning Programme, to plan the training sessions on public services and ICT services that will be organised in four rural areas in Austria, Greece, Romania and Spain in 2011. In the first year of the project, the partnership has been busy researching rural dwellers' needs and are now ready to begin delivering courses. These taking part will begin with a self-assessment test which will enable them to choose whether to opt for a basic computer and ICT skills training before moving on to a training course based on scenarios linked to topics like social networking, e-government or self-promotion through the Internet.
The RURALeNTER project is funded under the Grundtvig Multilateral subprogramme, which recently celebrated the 10th year of Grundtvig in Flanders with an anniversary event in the Ministry of Education and Training in Brussels. Staff from ATiT representing RURALeNTER took part in this event where they learned more about other Grundtvig-supported multilateral adult education projects by Flemish partners, including some initiatives focusing on rural areas. A publication showcasing the best-practice examples of Grundtvig-funded projects was also presented.