Submitted Friday, April 20, 2012 - 14:22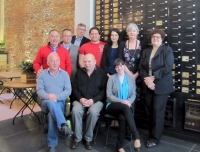 MEDEA2020 is a project supporting the annual MEDEA Awards which involves partners in Spain, Italy, France, Poland and Belgium. It is led by ATiT and involves the organisation of workshops, the support of the monthly Media & Learning newsletter, the annual Media & Learning conference and other dissemination actions as well as the awards scheme. Project partners met this week in Torino to discuss the progress of the project and to support the organisation of a workshop in Torino on the use and re-use of media resources. Find out more about MEDEA2020.
Submitted Monday, January 30, 2012 - 19:47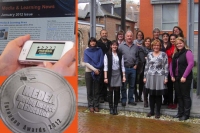 Last week on 26 January, the Kick-off meeting for the European MEDEAnet project took place in the Irish Institute in Leuven, Belgium. This 3-year networking project resulted out of the success of the MEDEA Awards, an annual competition that encourage innovation and good practice in the use of media (audio, video, graphics and animation) in education. The motivation behind MEDEAnet is first of all to extend the reach of the network of the MEDEA Awards by providing opportunities for local events linked to the MEDEA Awards and to involve not only early adopters, but also mainstream practitioners in networking opportunities.
MEDEAnet partners will organise workshops in 7 countries sharing best practice with the input of MEDEA Award winners and finalists; provide a 12-part series of public webinars on related topics; publish an annual report on media literacy, skills in educational media production and the use of media-based teaching resources; promote knowledge building and sharing amongst practitioners and roll-out a large-scale dissemination and exploitation strategy on media and learning. Secondly, plans to establish the MEDEA Foundation as a legally constituted membership organisation in 2012 are underway. MEDEAnet, which is supported under the European Commission's Lifelong Learning Programme, involves partners who either have a national or a large-scale regional brief and who are mandated to support innovation in teaching and learning as part of their organisational responsibility. Through them this network will reach teachers and trainers who are less skilled and motivated to use media-based learning approaches.