Submitted Tuesday, November 20, 2012 - 17:14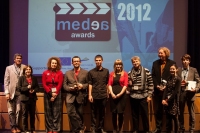 The French entry 'Quand la colère fait tomber les masques' is the winner of the MEDEA Award for Professionally Produced Educational Media 2012 and the Greek entry 'And the Oscar goes to ...' is the winner of the MEDEA Award for User-Generated Educational Media 2012. These and 4 special prize winners were announced during the MEDEA Awards Ceremony which took place 14 November 2012 as part of the Media & Learning Conference 2012 in the Flemish Ministry of Education and Training headquarters in Brussels.
Find out about each of the winners and finalists in the press release (PDF) and meet them online in the MEDEAnet webinar series 'Meet the MEDEA Awards 2012 Finalists'. Showcases on each finalist and Highly Commended will be added to the competition's media gallery soon.
Submitted Monday, April 16, 2012 - 15:59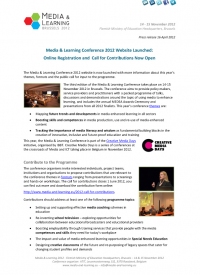 A press release announcing the relaunched website of the Media & Learning Conference 2012 was published this morning. The press release, which you can download online, includes a reminder of the call for contributions closing 1 June 2012 and more information on the conference themes.
So far two pre-conference events have been arranged for conference participants. The first is a half day visit to the Future Classroom Lab in Brussels which is a fully equipped, reconfigurable, teaching and learning space developed by European Schoolnet, its 30 supporting Ministries of Education and leading educational technology providers. The second event is a full day workshop on Lecture Capture which will feature both best practice demonstrations and a supplier round table discussion about future developments and trends.
Submitted Monday, April 16, 2012 - 15:52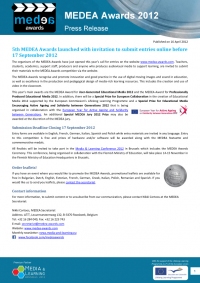 We have just published a press release to announce the renewed MEDEA Awards 2012 website and this year's closing date: interested participants are invited to submit their entries online before 17 September 2012. The five award categories include special prizes such as one for European Collaboration in the creation of Educational Media 2012 and one for Educational Media Encouraging Active Ageing and Solidarity between Generations 2012.
Event organisers that would like to promote the MEDEA Awards can also order a free batch of promotional leaflets available in Bulgarian, Dutch, English, Estonian, French, German, Greek, Italian, Polish, Romanian or Spanish through the MEDEA Awards Secretariat.
This press release is available as a separate download in English, Dutch, German, Italian and Spanish on http://www.medea-awards.com/press-and-publications#press-releases.