In the spring and summer of 2012, ATiT is organising a course that has been tailor-made for a large group of Ministry of Culture officials from Iraq coming to Belgium who will be responsible for public relations and communications in the Ministry. The course aims to introduce them to typical journalistic and public relations practices in a democracy and the role of social media in particular. It will involve a mix of talks by experienced practitioners, practical hands-on sessions and visits to various relevant institutions in the area including the European Parliament.
The purpose is to both raise awareness and skills in relation to how social media can be used to support the work of journalists, public relations staff and spokespeople while at the same time exposing participants to the daily practices, working norms and realities of a variety of professionals working in journalism, communications and public relations in democratic countries.
These courses are organised by ATiT and the Leuven Institute for Ireland in Europe with their partner, in Romania, the EU Innovation Center for the Iraqi British Cultural Center Organization located in Baghdad which is part of the Iraq Ministry of Culture.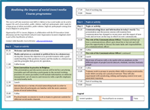 These courses are given in English to groups of between 15 and 25 participants with consecutive translation into Arabic by the interpreter traveling with the group. The courses are taking place in the Leuven Institute for Ireland in Europe. For further information about these courses, contact Sally Reynolds, Course Director, sally.reynolds@atit.be.
Download the detailed programme here (PDF).
For confirmed speakers please see individual week description below:
Latest news:
Visit our photo gallery to view photographs of this course: