Course available in two versions: Basic aimed at Newcomers and Advanced aimed at those with experience of creating and using video in the classroom
Dates for 2015 to be announced shortly
Courses can also be arranged on demand for groups of 8 or more, contact us for more information or a quote.
What can you expect?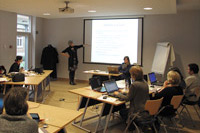 Aimed at enthusiastic educators who would like to create their own educational video materials, this week-long residential course organised by ATiT combines theoretical and practical elements. It will raise your awareness as to the value video can bring to teaching and learning and will equip you with the necessary skills to create and share your own educational video materials. As a participant, you will receive hands-on training on the creation of digital video for the classroom. You will be able to use professional hardware and software to practice specific skills in a practical and supportive environment in the classroom.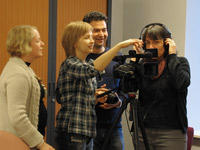 You will work in a small team to produce your own educational video programme and this process is interchanged with theoretical sessions and visits to ensure a good balance of work. The course culminates with a public showcase of the videos produced by the different teams to an invited audience.
You will have access to recording and editing and can also bring your own camera and laptop. You will also be provided with a selection of resources, materials and tools to enhance your own creation of educational video resources as well as tips and suggestions about how to use existing video-based resources.
"
A good mix of theory and hands-on. Both basic and more sophisticated stuff.
(Participant - February 2011 course)
"
This course is provided in English and the number of participants is limited to 20. Participants will receive a Certificate of Attendance at the end of the course.

This course is being run in association with the annual MEDEA Awards, a competition set up to recognize excellence in the use of media in education. For more information about MEDEA and to view the media gallery with best practice examples, visit the MEDEA website: http://www.medea-awards.com.
Contact us
If you have any further questions, please contact Sally Reynolds and Tânia Vargas via e-mail: video-course@atit.be or telephone +32 16 284 040.