Courses can be arranged on demand for groups of 8 or more.
Contact us for more information or a quote.
What can you expect?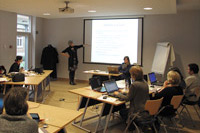 Aimed at enthusiastic educators who would like to create their own educational video materials, this week-long residential course organised by ATiT combines theoretical and practical elements. It will raise your awareness as to the value video can bring to teaching and learning and will equip you with the necessary skills to create and share your own educational video materials. As a participant, you will receive hands-on training on the creation of digital video for the classroom. You will be able to use professional hardware and software to practice specific skills in a practical and supportive environment in the classroom.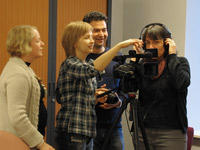 You will work in a small team to produce your own educational video programme and this process is interchanged with theoretical sessions and visits to ensure a good balance of work. The course culminates with a public showcase of the videos produced by the different teams to an invited audience.
You will have access to recording and editing and can also bring your own camera and laptop. You will also be provided with a selection of resources, materials and tools to enhance your own creation of educational video resources as well as tips and suggestions about how to use existing video-based resources.
"
A good mix of theory and hands-on. Both basic and more sophisticated stuff.
(Participant - February 2011 course)
"
This course is provided in English and the number of participants is limited to 20. Participants will receive a Certificate of Attendance at the end of the course.
Funding
The deadline to apply for funding is 17 March 2014, under the Erasmus+ programme.
For a successful application, you should contact the person responsible for staff development in your organisation, and let him/her know that you are interested in this course.
As part of the application process, your organisation will need to create a European Development Plan. This plan should describe your organisation's development and training objectives for the next one or more years, taking training into consideration.
To ask for support in your application (such as forms and general guidance), please contact your national agency. To find your National Agency click here
- Erasmus+ Programme Guide
- For more info on the Erasmus+ programme click here
Rules and Regulations
As this is a residential course, all (non-Belgian trainees) are obliged to stay and eat in the same location, the Leuven Institute for Ireland in Europe, where the course is also taking place.
The accommodation provided in this residential course is exclusively for the teachers and trainers taking part in the course. Trainees who have partners or friends who would like to visit Leuven during that time are strongly recommended to arrange a joint stay before or after the course. During the course the trainees' time will be dedicated to training and group work, having a guest staying with you would otherwise affect group dynamics. Guests that arrive on Friday are welcome to join us for the screening of the group work.
Trainees will be asked to confirm they have health insurance that is internationally valid during their stay in Leuven. EU citizens can obtain a free European Health Insurance Card (EHIC).
Costs
The full cost of participation in this week-long residential course is € 1200 or € 1,400*, including accommodation (shared room with bathroom or single room with bathroom), all meals, tuition and materials. Deadline to obtain funding to cover the full costs of participation is 17 March 2014.
The number of participants is limited to 20, funded applicants are guaranteed a place first and then non-funded participants are accepted on a first-come first-served basis.
As this is a residential course, all international trainees are staying in the same location where the course is also taking place.
* A small number of places are reserved on each course for Belgian teachers or trainers. The cost for this week-long training course is 525 euros for them (plus 21% VAT), which includes all training and materials costs, coffees and lunches every day.
To participate in a course, apply online.

This course is being run in association with the annual MEDEA Awards, a competition set up to recognize excellence in the use of media in education. For more information about MEDEA and to view the media gallery with best practice examples, visit the MEDEA website: http://www.medea-awards.com.
Contact us
If you have any further questions, please contact Sally Reynolds and Tânia Vargas via e-mail: video-course@atit.be or telephone +32 16 284 040.