Ten course participants from Spain, Romania, Ireland and Italy took part in the second 2011 week-long training course on creating and using video to support teaching and learning from 4-9 July.
The course began with everyone getting to know each other and discovering how some of them were already using video resources in their lessons or training. Since one of the aims of the course is to learn how to create your own educational video resources, the participants first learned about different types of moving images and video (animation, stop motion, chroma key, live video, interviews, drama, observation), how video can be used to enhance a lesson, and which educational video repositories or public television archives are already available.
After presentations and discussions on the use of existing video and creating user-generated video for learning, things quickly turned practical and the course participants were divided into 3 small teams in which they could work on creating their own educational video. Through group work and with help from the instructors, the participants went through the whole creative process together: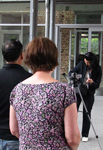 brainstorming, evaluation and selection, scenario and script writing, planning, problem solving
shooting a video using light and sound, applying camera and microphone techniques
editing the recorded video to a 3-minute videoclip
publishing the video online
"
Even though in a short time (a week is not enough to gain all necessary experience for video production), we learnt and practiced all the aspects of making video, from the storyboard to publication.
(Participant - July 2011 course)
"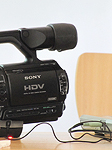 During the week, the course participants also visited the Media and Learning Unit, of K.U.Leuven, where they learned more about the university's integrated lecture recording system and online video hosting and streaming service called "Videolab", which is freely offered to lecturers and students within the K.U.Leuven Association. Participants also received a guided tour through the professional recording, editing and videoconferencing studios.
"
Asked what he/she enjoyed most about the course, one participant answered: the visit to K.U.Leuven Media & Learning Unit.
(Participant - July 2011 course)
"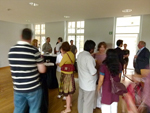 The course is held in the Leuven Institute for Ireland in Europe in the beautiful century-old city of Leuven (Belgium). The topic chosen by each working group for their video was related to the city of Leuven. The results were presented to an invited audience on Friday 8 July 2011 including the Education Alderman for Leuven, Mohamed Ridouani.
The course concluded with an evaluation session and after a week full of learning, getting to know each other, exchanging experiences and laughter, the group remains in contact with one another through an online group that was created on a social network.