Participants will meet and stay in the recently renovated Leuven Institute for Ireland in Europe located in the historic and picturesque heart of the Flemish University city Leuven which will allow participants to share their knowledge and background in an informal manner.
The Leuven Institute for Ireland in Europe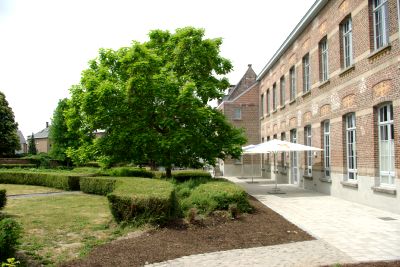 The Irish College was established in Leuven in 1607 as an Irish Franciscan college. In 1983 the Leuven Institute for Ireland in Europe was established to develop the Irish College as a training facility for students from all sectors in both Northern Ireland and the Republic of Ireland, so many of the staff that you will meet in the Institute are trainees. The Leuven Institute for Ireland in Europe is an ideal place for meetings, conferences and our training.
"
Excellent location, very convenient. Very efficient, staff are really friendly and helpful.
"
"
The standard of accommodation, food and location was very high. It is easy to get to and I felt very welcome in the college.
"
(Participants - February 2011 course)
"
Leuven is wonderful & the Institute is perfect for this course.
"
(Participant - October 2011 course)
The course costs include your stay at the Institute from Monday morning to Saturday morning in a single room with free Internet access, including breakfast, lunch as well as dinner. If you would like to come to Leuven sooner or leave later and extend your stay at the Institute, you can contact the Institute personally to arrange this.
Contact details
The Leuven Institute for Ireland in Europe
Janseniusstraat 1
3000 Leuven
Belgium
Phone: + 32 16 310 430
Fax: + 32 16 310 431
E-mail: reception@leuveninstitute.eu
Website: http://www.leuveninstitute.eu
About the city of Leuven
"A stone's throw from Brussels and the national airport and at the intersection of two international motorways there stands the old Burgundian university town of Leuven. Few towns in Flanders appeal to the imagination more than this haven for students, where history, culture, architecture, gastronomy and modern science are intermingled to form a compelling cocktail.
In terms of culture, art history and gastronomy Leuven has a wide range of possibilities. From its gastronomic tours de force to the dazzling Gothic Town Hall, from a delicious Leuven pint and the student atmosphere of the Old Market Square to the demure magnificence of the Saint-Peter's church, Leuven has it all - and more. You are guaranteed to come back again."
Getting there