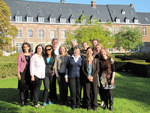 A group of 10 teachers and teacher trainers from 6 different European countries (Bulgaria, Ireland, Italy, Greece, Romania and Spain) took part in a week-long training course in Leuven, Belgium on 24-29 October on the use of video to support teaching and learning. The participants worked in groups to produce short educational video clips.
Participants began the week by introducing themselves and their background with information about their country or region and in some cases a sample video they had already used for teaching or training (several of which they had created themselves). Besides learning about the educational use of videos, participants enjoyed meeting other colleagues, comparing their teaching experiences and learning from one another through their team collaboration.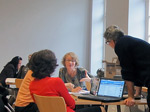 Our experienced trainers offer participants plenty of hands-on training on the creation of digital video for the classroom. During the course participants gain insight into the value video can bring to the learning process and the practical knowledge necessary to create your own video materials. The trainers use guided demonstration sessions to highlight video-based materials that are already available online, such as the materials and showcases available through the MEDEA and EUscreen projects and other repositories. An important aspect of the introduction to and discussions about these materials is that the participants learn about the legal and technical constraints related to the use of audio and video for teaching purpose.
"
Materials professionally presented, it is clear that all presenters love their work and are committed to improving the use of video in education.
(Participant - October 2011 course)
"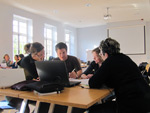 During this course, the ten teachers and teacher trainers were divided into groups with participants from other European countries and after an introduction into the different uses of video for learning were given a guided tour through the city of Leuven. While the town is mostly known for its Gothic Town Hall, K.U.Leuven, the oldest Catholic university still in existence, and its brewery, this guided tour helped the participants to discover much of the history, the extraordinary sites, the hidden nooks and architectural significance of this special city. Each group was then invited to create an educational video about a specific aspect of Leuven and with this theme in mind, the participants learned to prepare scenarios and use professional equipment to record and then edit an educational video clip. Through this work, they were able to learn new, practical skills in a practical and supportive environment in the classroom, thanks to the help of our trainers.
In order to better understand the history of moving images generally the group also visited the Belgian Film Archive and Film Museum CINEMATEK in Brussels, where they viewed a screening of five Belgian short movies that served to raise topics related to media literacy and our cinematic heritage. CINEMATEK houses a wonderful collection of old films which are freely searchable via moviolas as well as a treasure chest of artefacts related to the origins of film.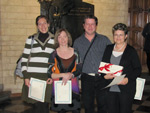 Three group videos were then presented on 28 October 2011 to an invited audience in Leuven Town Hall where the Alderman for Education, Mohamed Ridouani, presented participants with their certificates. This screening and certificate ceremony was followed by a reception and a private tour at the town hall, which gave a symbolic end to this week. On Saturday participants evaluated the course and took part in individual tutoring or "lessons" about several related topics.
"
In general I thought the course was excellent from beginning to end. The level, organisation and staff's commitment was impressive. The efforts that went into creating positive group dynamics were well worth it and all learning objectives were achieved. An excellent example of lifelong learning in action.
Excellent content and presentation reflects high level of expertise. Really enjoyed it and highly recommend it!
(Participant - October 2011 course)
"