Submitted Sunday, September 28, 2014 - 20:26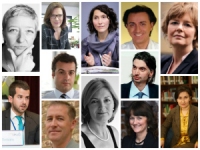 Sally Reynolds presented the Media & Learning Association at the Telecentre Europe Annual Conference held from 24-26 September in Zagreb, Croatia. Telecentre Europe is about to become the first network member of the Media & Learning Association while the association is in the process of signing a MoU with Telecentre Europe to explore projects and activities of mutual interest which includes in-service and pre-service training in media production for teachers and finding ways to meet the educational needs of SMEs in media-related businesses.
Submitted Friday, September 26, 2014 - 12:35
We have just finished implementing a major update of the Online Scoring Platform (OSP) for +he Academy. The OSP offers a mechanism to record training results for gynaecological endoscopists, to hold reporting and certification sessions in accredited centra and to issue accompanying certificates and diplomas. It was officially launched at the 23rd annual congress of the European Society for Gynaecological Endoscopy (ESGE).