Submitted Tuesday, July 15, 2014 - 13:57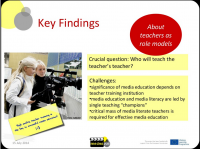 The consortium of the European Commission supported project MEDEAnet (2012-2014) in which ATiT is the coordinator tries to get to the bottom of this question and investigates the situation in the MEDEAnet countries (Estonia, Greece, Bulgaria and Romania) or regions (Baden-Württemberg, Flanders, Upper Austria). The results of this investigation are published in a series of annual reports about "Charting Media and Learning in Europe". This series aims to provide a general description of how media education and media literacy are dealt with in 7 different European regions and countries.The last of the annual 3 part MEDEAnet series has just been published.
Submitted Monday, July 7, 2014 - 08:54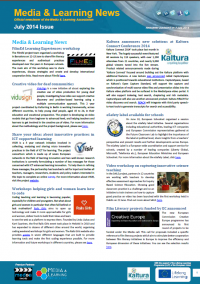 Highlights include an article by Susanne Friz about the media portal for schools produced by the Institut für Film und Bild in Wissenschaft und Unterricht (FWU), an article by Russell Stannard about his video capture experience with students and free online tools, and an article by Jack Koumi about the possibilities of "audiovision" teachers training of Nomadic children in Nigeria. Read also news about the final MEDEAnet report, the announcements of the Kaltura Connect conference and many more.
Read the newsletter here