Submitted Tuesday, April 8, 2014 - 09:35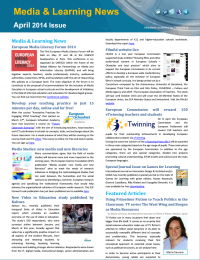 The April issue of the Media & Learning News is now available.
Highlights include an article on Using Primetime Fiction to Teach Politics in the Classroom: TV series The West Wing and Borgen as Media Resources by Maria Cervera, an article on the Eurovision Academy Master Class on Digital Media Literacy by Nathalie Labourdette, an article on Building Media Literacy Skills via Hands-On Production Experience by Julia Griffey, news articles about the fist keynotes for Media & Learning conference 2014, the Media & Learning Association webinars and plenty of other news, notifications and announcements related to the use of media in education and training.
Submitted Monday, March 31, 2014 - 22:18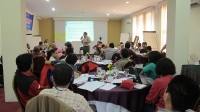 From 24th till 28th of March 24 Mathy Vanbuel visited the Indonesian National Agency for Disaster Management (BNPB) (BNPB (Badan Nasional Penanggulangan Bencana - http://www.bnpb.go.id) to work with them on the development of capacity in the area of disaster management. As part of a team from the World Bank, he delivered a workshop in the university of Indonesia on GDLN and the use of videoconferencing for distance training. Together with Steffen Janus (WB) and Nicolas Meyer (WB) he provided a well attended workshop titled "The art of Knowledge Capturing" at the University of Gadjah Mada (http://www.ugm.ac.id/en/) in Yogyakarta. More than 40 participants, students of the University's MTPBA Program as well as staff and cadres from the national BNBP and local BPBDs joined the workshop to explore ways in which their experiences and expertise could be captured in order to be shared and exchanged with others. This workshop may be provided to other organisations in the future.