Submitted Tuesday, July 7, 2015 - 11:07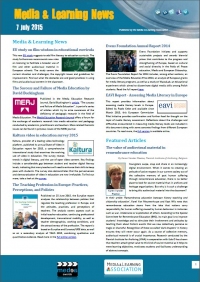 Highlights in this month's newsletter include an article on "The value of audiovisual material in remembrance education", by Karen Vander Plaetse, Flemish Institute of Archiving, Belgium; "Using Video to Engage Distance Learners", by Steve Hogg, Head of Learning Technologies, and Andrew Doig, Instructional Developer, Southampton Solent University, UK; a book review "Film in Action – Teaching language using moving images by Kieran Donaghy", reviewed by Mathy Vanbuel, ATiT, Belgium, and news articles about "Annual MEDEA Awards open for entries & new prizes announced", "Kaltura Video in Education Survey 2015", as well as the Videogame Cultures Project: 7th Global Meeting 11 - 13 September, UK, and plenty of other notifications and announcements related to the use of media in education and training.

You can see the newsletter here.
Submitted Tuesday, July 7, 2015 - 09:06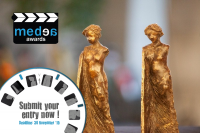 The annual MEDEA Awards for 2016 was launched at the beginning of July, with the announcement of several new prizes and a reminder of the deadline for submissions, which is 30 November 2015. The aim of this annual competition, now entering its eighth year, is to encourage innovation and good practices in the use of media (audio, video, graphics and animation) in education.