Submitted Monday, January 26, 2015 - 08:47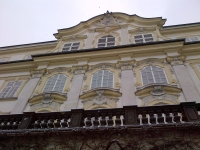 ATiT participated in the International Media & Information Literacy Research Development Workshop that took place from Friday 23rd and Saturday 24th of January 2015 at the Salzburg Global Seminar in Austria. This two-day workshop gathered a group of leading scholars and policy makers in media and information literacy (MIL) to set an agenda and strategy for media literacy research that is global in scope and mapped to policy issues across the European Union and beyond. The workshop will focus on the sharing of perspectives and priorities for international research collaboration in the field of media and information literacy education.
Submitted Monday, January 19, 2015 - 12:38
ATiT will be running a series of workshops for Flemish Science Teachers as part of the Inspiring Science Education project. On 25 February a workshop with Rhombus will focus on different aspects of science utilising their expertise in data acquisition. A Practice Reflection Workshop on 25 March in cooperation with the Institute for Education-and Information-Sciences will give teachers the opportunity to feed back their experiences with using ISE related tools and learning scenarios.
More details on the individual workshops will be available soon on the Inspiring Science Education website Events listing or email Belgium@inspiringscience.eu to receive details. For the latest news and views on Inspiring Science Education visit facebook Twitter