Submitted Thursday, September 10, 2015 - 08:38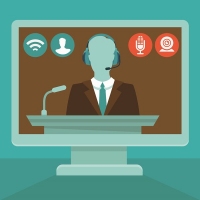 Interested in organising webinars? Read this article (in dutch, on the renewed website weblectures.nl) which gives you an insight in the way we have been organising webinars at ATiT for the past few years in the context of different projects and for several special interest groups in the field of education and the use of media. Joasia van Kooten who has been doing the technical coordination and organisation of many webinars at ATiT explains the do's and don't when it comes to choosing a conference tool, preparing speakers and other tips to keep a one hour session dynamic and interactive. One of the webinar series running at the moment is a series from the Media & Learning Association SIG on Video in Higher Education, upcoming webinars can be found here.
Submitted Wednesday, September 9, 2015 - 11:26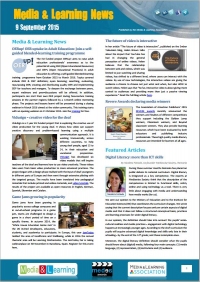 Highlights in this month's newsletter include:
- M&L webinars: new series starts 10 September
- The Upside of Upside Down: an in-depth look at Flipping the Classroom By Tammy Jackson, Director of Communications, Sonic Foundry, Washington, US
- Social media and the new era… By Dr. Christos Georgousopoulos, Delivery Manager, INTRASOFT and Project manager REVEAL
- Digital Literacy: more than ICT skills By Nicoleta Fotiade, Co-founder Mediawise Society, Romania
- Audiovisual Translation, Subtitling, by Jorge Díaz-Cintas and Aline Remael (Routledge 2014) Reviewed by Mathy Vanbuel, ATiT, Belgium
- Vidusign – creative video for the deaf
- Children's Film First Conference 24 September
plus plenty of other news, notifications and announcements related to the use of media in education and training.
You can see the newsletter here.