Submitted Thursday, February 26, 2015 - 17:31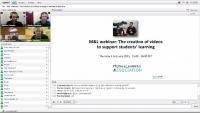 The Media & Learning webinar series on Lecture Capture and Video Use in Higher Education continues: the next one, Defining the market: trends for products and interactivity, is going to take place on March 12 at 15:00 (CET). Visit the M&L Association website to check the entire list of webinars scheduled from today until June 2015. You will also find the recordings of the first two webinars of this year: New assessment strategies for the media-rich class and The creation of videos to support students' learning. Stay tuned!
Submitted Monday, February 16, 2015 - 10:52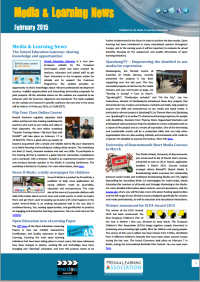 Highlights in this month's newsletter include an article on Media and information literacy (MIL) at UNESCO by Georges Boade from UNESCO, an article on EDIT2014: A Finnish, Austrian and German Video Pedagogy Collaboration by Janne Länsitie and Blair Stevenson from Oulu University of Applied Sciences (Finland), an article on Using Open Media Archives by Theo Kuechel, Education Consultant (UK), news articles about the series of M&L webinars, the opening of the School Education Gateway, and plenty of other notifications and announcements related to the use of media in education and training.

You can see the newsletter here.