Submitted Monday, April 16, 2012 - 15:59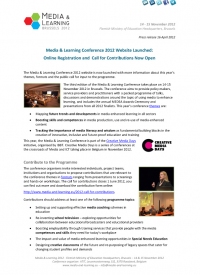 A press release announcing the relaunched website of the Media & Learning Conference 2012 was published this morning. The press release, which you can download online, includes a reminder of the call for contributions closing 1 June 2012 and more information on the conference themes.
So far two pre-conference events have been arranged for conference participants. The first is a half day visit to the Future Classroom Lab in Brussels which is a fully equipped, reconfigurable, teaching and learning space developed by European Schoolnet, its 30 supporting Ministries of Education and leading educational technology providers. The second event is a full day workshop on Lecture Capture which will feature both best practice demonstrations and a supplier round table discussion about future developments and trends.